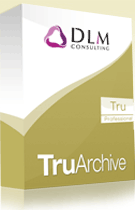 Over

view

Are you

buried under your business documents

?

Can't find documents

any more, once you filed them?

No easy way to look up

a specific document? Your current document archiving solution

doesn't connect to your ERP system

?

If the answer is yes to any of the above questions, then the TruArchive document management system is for you. Forget all the trouble with archiving and finding documents. Import everything easily from a file or directly from an external source (scanner, camera, smartphone).

Mark the physical storage place and find any document with ease on whatever premises, in any office or cabinet. Doesn't matter if your documents are stored in files, boxes or folders. Customize the TruArchive system to suit your needs. Are you moving or rearranging the old place? Not a problem anymore. Follow the movement of your documents and folders in TruArchive with one click.

Ideal for
Accounting firms
Commercial companies
Law firms
Service companies
Outsourcing companies
Every enterprise with a back-office operation
Even for home administration

Why TruArchive? Because it is:
Easier to use than ever before
Genuinely simple to connect to your ERP system
Easy to learn
Customizable to your needs