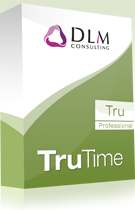 Over

view

Do

your invoices reflect all your efforts

spent on customers? Do you have all the insight in your organization to

make the right decisions

? Do you handle

invoicing in the most efficient way

?

Do you have control

over all the hours spent in the organization?

TruTime is your true solution! TruTime is a time tracking and billing software that helps you measure the performance of your employees, allows you to bill every minute your company spends on customers, makes your cost and billing administration efficient and painless.

Ideal for
Web design and software development teams
Accountants
Consultants
Financial advisors
Technical support specialists
Lawyers
Shared service centers
Writers, and many others

Why TruTime? Because it is
User-friendly
Easy to install and maintain
The interface is clear and intuitive.
You can't beat the price
Access it from anywhere!
- web based system hosted in secure data center.

Watch video

TryNow