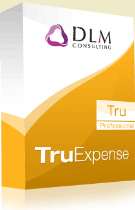 Over

view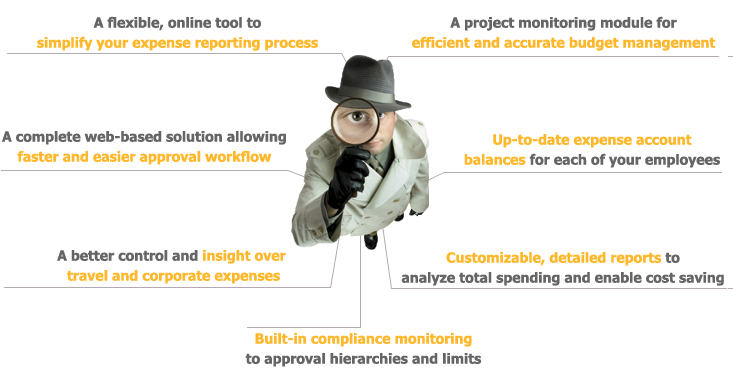 A flexible, online tool to simplify your expense reporting process
A complete web-based solution allowing faster and easier approval workflow
A better control and insight over travel and corporate expenses
A project monitoring module for efficient and accurate budget management
Up-to-date expense account balances for each of your employees
Customizable, detailed reports to analyze total spending and enable cost saving
Built-in compliance monitoring to approval hierarchies and limits
Do you want to control and optimize travel and corporate expenses within your organization?
Do you want an efficient, flexible business tool to improve your internal review and approval process accessible at anytime from anywhere?
Do you need an automated solution allowing easier administration and reimbursement of approved travel and corporate expenses?
Do you want to check where you stand within your project's budget?
Do you want to see every detail of your employees' expense account and their exact balance?
Can you properly analyze your company's spending and find cost saving opportunities?
TruExpense is your optimal solution – having all the features of the most appreciated major systems (e.g. SAP) for only a fraction of their price. With TruExpense you will be able to implement within your organization an end-to-end expense management system which makes submissions simple for employees, reviews and approvals easy and fast for managers helped by built-in corporate expense policy rules – all this online. TruExpense covers also reimbursement process reducing manual back-office workload, while keeping focus on control.

Ideal for:
Businesses with a significant number of monthly T&E reports
Medium and large firms with employees traveling on a permanent basis
Companies where already 10% of cost saving on total T&E spending is relevant
Organizations running projects regularly, but lacking a reliable monitoring tool

Why TruExpense? Because it is:
An integrated, efficient solution for the whole expenditure process
An ideal monitoring tool for managing project spending
Accessible at all time, from anywhere
Effective to cut costs so you'll have a quick return on your investment